The infrastructure and building construction industry is vital to the growth of a dynamic economy. Commercial building and bridge support structures are one element of these industries. Concrete continues to play an important role as a primary material resource. The development of improved manufacturing and converting methods, for standard and custom structural products, is an ongoing endeavor. Especially now when the construction industry faces such big challenges to provide cost effective structures with adequate ROI.
A customer recently approached us with a design challenge to assist them in improving the automation of their concrete conversion process. This machine cuts processed concrete, either slabs or girders, into specific lengths. The capability to cut windows and holes, within each cut piece, and to cut unique angles, was also a major desire. It would allow for value added design and structure functionality.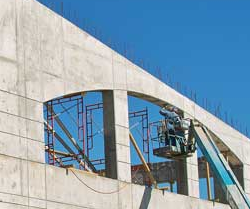 With raw material up to 200-300 feet long, the first area of the machine operating system to be considered was the saw carriage assembly. This carriage had to move along the material length and stop at precise positions for the cutting process to begin. Recommending the appropriate wheel drives was our portion of the solution. Our selection was a 2 horsepower WATT Drive SUA507B 91 S4 helical worm gearmotor, with a ratio of 120:1. It included a hollow shaft for mounting the wheel axle and an encoder for positional feedback control. The helical worm design was proposed to meet the efficiency, mounting, and cost constraint parameters.
With the reciprocating motion required, backlash was a concern. The WATT Drive helical worm provides a reduced backlash level over competitive products due to the optimized gearing design, and precision machining of bearing bores which better positioned those gears.
Also, because this machine was slated for worldwide distribution, a high performance motor capable of operating with any volts/Hz combination was another desire. The WATT Drive vector duty motor has a unique dual winding design that can be wired and operated within virtually any three phase power source environment. This allowed the customer to specify one gearmotor regardless of the final domestic or export destination.
The second area requiring a solution was the saw positioning drive assembly. This was, in essence, an X-Y positioning device that would allow for horizontal, vertical, or angular cuts.
We again suggested the helical worm design, this time a smaller size SUA506B, because of the lower torque requirements. However, we included a higher resolution 4096 count encoder on the motor because of the more precise feedback required, especially on the angular cuts. In this situation both gearmotors had to work in unison to achieve the required smooth and precise angular motion as the drive assembly moved along the length of the material. Again, backlash was a concern. Fortunately the WATT Drive helical worm gearmotor easily met the tolerances that were necessary.
In making these selections, we worked closely with the customer's controls supplier to make sure all electrical and performance specifications were achieved to meet the desired performance characteristics. The final result was an automated process that not only replaced many manual operations but also improved the tolerances and dimensional integrity of the finished product. And, with the increased efficiency and product throughput, our customer's customers are able to enjoy enhanced profit margins.
The Watt Drive helical gearmotor and reducer product line offers an extensive range of inline and right angle designs including parallel shafts and helical bevels, along with the aforementioned helical worms. Sizes range from fractional to 60 HP capacities. The reducer can be fitted with the worldwide usage, vector duty Watt Drive EUSAS motor or motor adapters for standard NEMA or IEC for speed control, and servo motor adapters for applications requiring motion and positioning control. A variety of shaft configurations and reducer mounting options, as well as custom design modifications, are also available.
With such an extensive range of solutions to choose from the best isn't always so easy to determine. That's where Diequa comes in. Give us a call with your next gearbox application. With our years of experience we can help you select the best technology to satisfy your unique needs.