Screw Jacks & Lifting Systems
Screw Jack Systems offer comprehensive lifting and positioning design solutions for a wide variety of industries. Highly accurate and extremely reliable machine screw and ball screw jacks are matched with an extensive range of drive, connection, motion control, safety, and protection components to provide a complete package from a single source.
DieQua offers system design assistance, taking the guess work out of product selection. Our years of application experience assures that all elements of the design process are considered. We also offer full assembly drawings, which provides time saving value and guarantees the correct system components are integrated into your design.
Precision Machine and Ball Screws
Standing and Rotating Versions
Multiple Spindle End Connections
Multiple Driving Nut Designs
Modular Housing for Mounting Versatility
Multiple Safety and Protection Options
Motion Control Options
Complete System Designs
12 sizes
Lifting capacity from 0.5 – 100 tons
Ratios from 4:1 to 13.33:1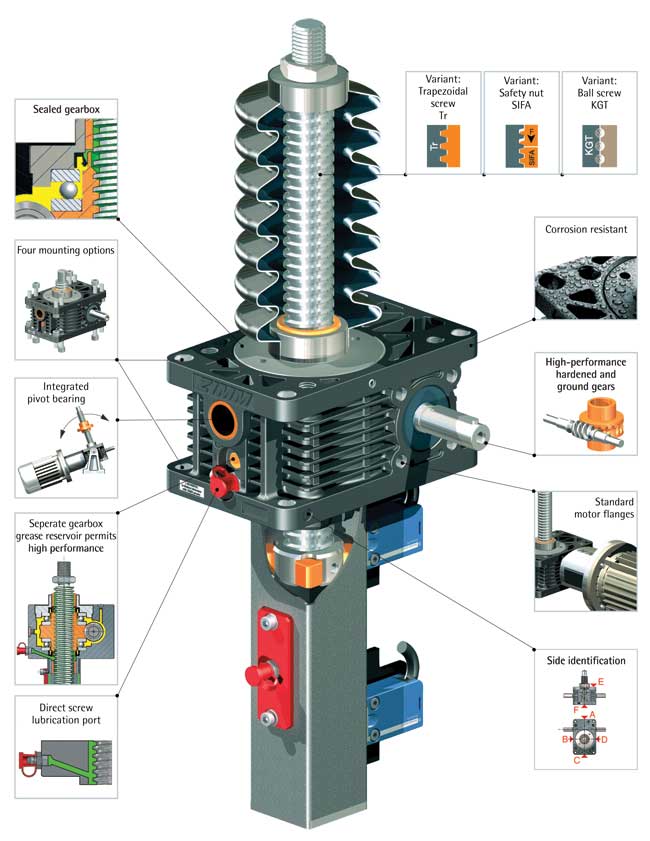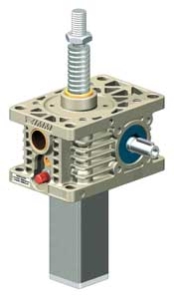 Model "S" – Standing Version
Design Description: The spindle travels through the jack body, providing direct linear force. A variety of rod ends and flange components allow easy connection.
Design Note: Space is required above and below the jack body to equal at least the lift distance, plus add-on components.
Other Designs Available: Square body jacks in cast iron and aluminum as well as a variety of lift speeds are available upon request.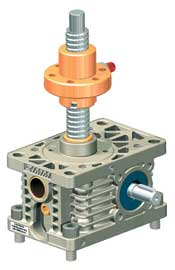 Model "R" – Rotating Version

Design Description: The spindle rotates, driving a nut up and down it's length. A variety of nut options are available.
Design Note: Other than for very short spindle lengths, the top of the spindle should be supported by a bearing to avoid rod whip.
Other Designs Available: Square body jacks in cast iron and aluminum as well as a variety of lift speeds are available upon request.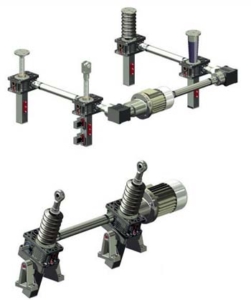 Complete Systems

Design Description: Complete systems can include the screw jacks, the jack accessories, the connecting components, and the drive systems.
Sizes: Multiple jacks can share the load of a balanced system, reducing the size of individual screw jacks.
Design Note: When moving a load with multiple jacks, it is critical to assure proper alignment and provide guided system support.
Load Connection Options for Standing Model



Load Connection Options for Rotating Model



Screw Jack Connecting Options






















Why Choose a Zimm Screw Jack System?
Most screw jack designs have been around for decades. While they have stood the test of time, today's applications require more dynamic solutions, with more options and more automation.
There is also a demand for a system approach to lifting and positioning requirements, where all components are matched and the solutions encompass a complete assembly.
Zimm provides that system approach, offering the most advanced screw jack designs along with all the connecting, safety and drive components, all available from a single source and included in a single assembly drawing.
Zimm offers what no one else does – a complete solution for your lifting needs.
Automation

Chemical

Communications

Custom Machinery

Energy

Material Handling

Packaging