Sesame – PGF/PHF Rotary Flange Servo Gearheads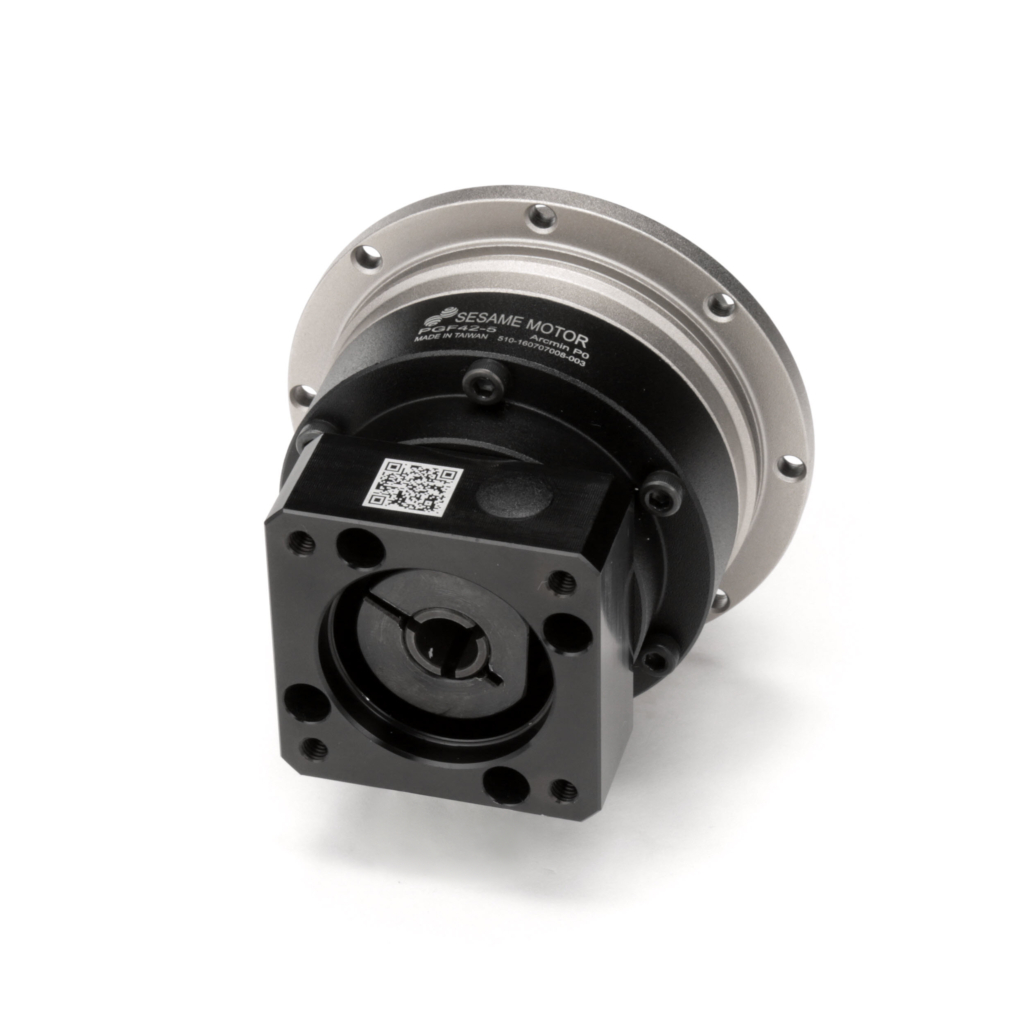 The PGF and PHF series of ISO 9409-1 compliant rotary flange helical bevel provide a wide range of performance levels to satisfy the full range of motion control application requirements.
Inline Configuration
Flanged Outputs: conforms to ISO-9409-1 robotic flange standards.
Torque Capacity Ranges: starting at 11 Nm through 2000 Nm.
Caged Planet Carrier: with precision Helical Planet gear sets
High performance, efficiencies and low acoustics.
Wide Range of Ratios: 5 single-stage and 9 two-stage ratios.
Square Servo and Step Motor input: accommodates size ranges 42 mm through 220 mm, with optional sizes also available.
Right angle configurations are also available in both the PGF and PHF Series.
3 levels of backlash
Inline, flanged output configuration
PGF 4 frame sizes 42-115 mm
PHF 14 frame sizes 42-255 mm
Round output mounting flange
Ratios from 3:1 – 100:1
Output Bearing Delivers:
PGF's angular contact ball bearings with bending moment capacity up to 6080 N, and axial load capacities up to 1580 N.
PHF's Taper Roller Bearings with bending moment load capacity up to 21850 N, and axial load capacities up to 6080 N.
Why Choose a Sesame Servo Gearhead?
Servo motors are used in a variety of machinery motion profiles to control position and speed. Regardless the accuracy required, or lack thereof, the same motor is often used.
The performance level of the gearhead, however, is an important consideration for achieving the desired goal at the most cost effective price. A different internal construction design can yield different results.
Sesame offers 4 performance levels with distinctive design characteristic options within each level. The wide range of available models allows the optimal product selection to achieve the desired performance, at the most value oriented price.
It's this versatility in performance, design, mounting and price ranges that make the Sesame servo gearhead product line the ultimate resource for your specific requirements.
Automation/Mechatronics

Communications

Custom Machinery

Food Processing

Material Handling

Medical

Packaging

Transportation Systems