Aluminum Inline Helical Speed Reducers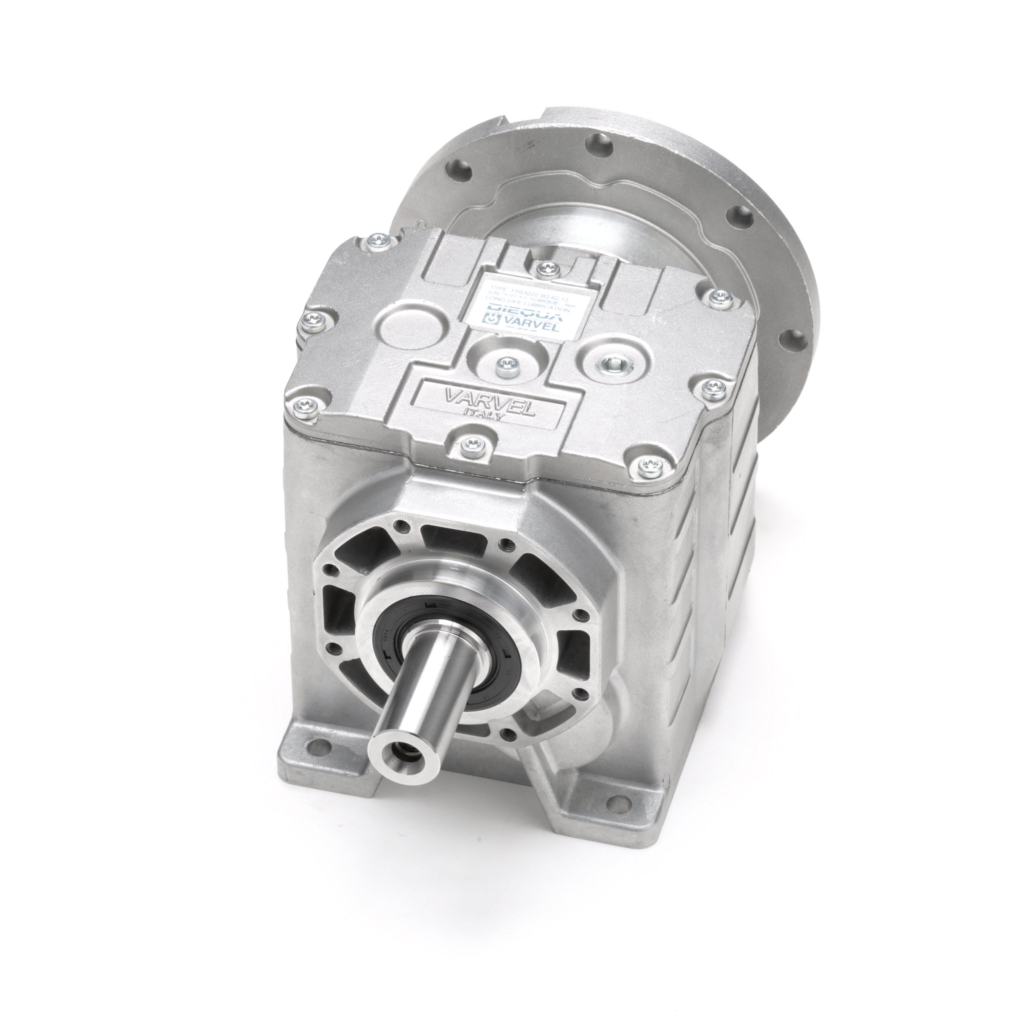 Varvel's economical aluminum body helical speed reducer provides highly reliable power transmission for general purpose applications. Designed, manufactured, and assembled in Italy's famous gear production region, these gearboxes offer cost effective operation and superior performance over similar products.
Housing & Covers: Aluminum die cast (5 sizes), Cast iron (2 sizes)
Multipurpose Housing: Foot & Foot/Flange mountings, one housing for 2 & 3-stages
Output: Solid shafts, inch and metric
Oil Seals: NBR as standard; Viton and Silicon upon request
Lubrication: Synthetic oil Grade ISO VG 320
Bearings: Ball or taper roller bearings depending on size and application
Input: NEMA and IEC motor adapters with a precision elastomer spider coupling to eliminate fretting and for easy motor removal
5 sizes with aluminum housings
Torque capacity from 200-6000 inlbs
Ratios from 2.5:1 to 600:1
Output shafts in inch or metric dimensions
Input adapters for NEMA and IEC motors
Mounting via foot, face or bolt-on flange
Top 10 Benefits of the Coupling Input Connection
1. Eliminates fretting corrosion common in quill mount.
2. Provides a near-zero backlash motor-to-reducer connection.
3. Reduces efficiency losses due to motor mounting misalignment.
4. Eliminates key/keyway wear in reversing applications.
5. One gearbox adaptable for NEMA, IEC, and servo motors.
6. One gearbox for multiple motor frame sizes.
7. Two bearing input support isolates motor bearings.
8. Elastomer element dampens vibration, reducing motor wear.
9. Motor heat transfer is minimized, increasing seal life.
10. Optional insert for ATEX explosion-proof applications.
Why Choose a Varvel Speed Reducer?
Most of today's industrial machines need primary drive gearboxes that are cost effective and highly reliable. The Varvel inline helical speed reducer is designed to satisfy those specific needs.
With a light weight but highly rigid housing, ground or shaved gears, and a flexible motor mounting system that reduces maintenance while improving performance, Varvel offers an economical solution for general purpose applications that provides trouble free and reliable operation.
An added benefit is the standardized dimensions equal to several popular competitive models allowing for easy conversion to the Varvel alternative.
Conveying

Processing Machinery

Packaging Machinery

Food Processing

Agricultural Equipment

General Industrial Machines

and more…